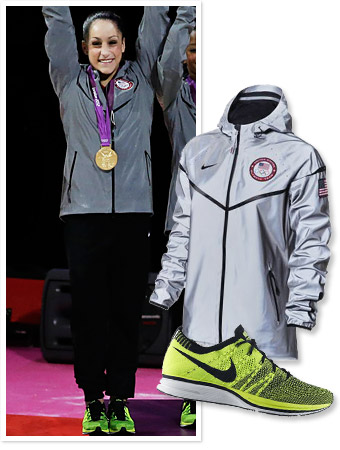 AP Photo/Gregory Bull; Courtesy of Nike (2)
Think that the fierce athletic garb our American Olympians have been wearing on the podium is exclusive to medal holders? Think again! Those silver sports jackets and lime sneakers, as modeled by gymnast Jordyn Wieber, are courtesy of Nike, and both pieces are available for fans and athletes alike in the brand's Team USA Collection. The jackets (which say "Land of the Free Home of the Brave" inside) are $450 on nike.com, while the trainers retail for $150. Yes, YOU are Team USA.
Plus, see all of Jordyn's Olympic leotards!
MORE:
• Celebrities Love Leotards, Too!
• Kate Middleton's J Brand Olympic Jeans
• The Best Olympic-Inspired Manicures