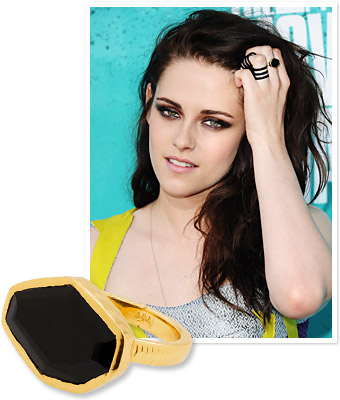 Kyle Rover/StartraksPhoto; Courtesy Photo
Kristen Stewart cannot get enough of her Melinda Maria onyx ring—the Breaking Dawn star has been spotted wearing it to this week's Teen Choice Awards, Comic-Con, the MTV Movie Awards (pictured) and, well, just about everywhere else! Pick up the goes-with-everything piece for $70 at melindamaria.com.
Plus, see photos from the new Breaking Dawn!
MORE:
• Where Can I Find… More Celeb Outfits!
• Check Out Kristen's Best Looks Ever
• Kristen Stewart's Perfume Campaign