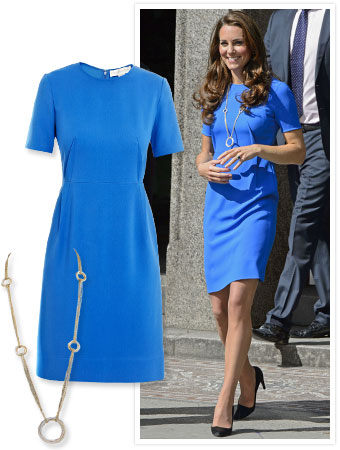 Courtesy Photo (2); Tim Rooke/Rex / Rex USA
It looks like Catherine, Duchess of Cambridge went shopping this week! The royal attended a special Olympic Games exhibition at London's National Portrait Gallery wearing a new look—Stella McCartney's cobalt blue shift. We love the symbolism of choosing this British designer, the same person behind the Great Britain's Olympic uniforms. The Duchess paired the dress with a Cartier trinity necklace, which features pink, yellow, and white gold dotted with diamonds. While you can shop the dress for $658 at matches.com, the necklace is a little steeper, available at cartier.com for $76,895. (Perhaps it was a 30th birthday gift?) Tell us: Do you like the look?
See more of Kate's most memorable outfits!
MORE: 
• Kate and Will's Cutest Couple Moments
• The Fashion Power of Duchess Catherine
• Kate and Pippa: Style Twins