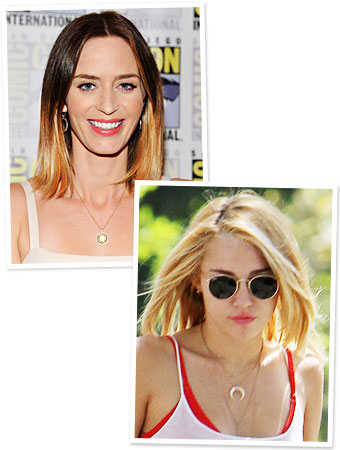 Getty Images; INF Photo
Emily Blunt and Miley Cyrus are showing off their blond ambition! Blunt unveiled a lighter ombre style at Comic Con in San Diego, while Cyrus switched her two-tone color for an all-over flaxen hue in Los Angeles. And it turns out, the bride-to-be is having more fun as a blond, joking around on Twitter about her new 'do. "Now that I'm blond, I gotta give duck lips in every photo," Cyrus Tweeted on Saturday. And these two aren't first-timers: Blunt went for a full-on caramel shade in January of last year, while Cyrus had pale gold highlights in February. See more of this year's hottest celebrity hair makeovers in the gallery.
MORE:
• Try on Miley Cyrus's Hair!
• Summer Hair Trends to Try Now
• Try on Emily Blunt's Hair!