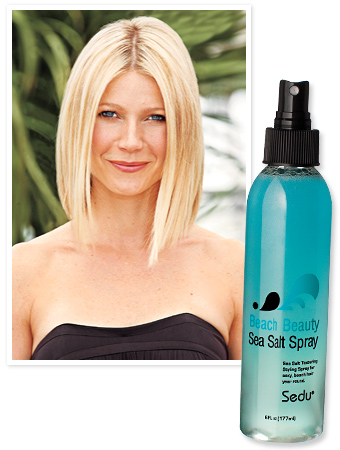 George Pimentel/WireImage; Time Inc. Digital Studio
Creating a straight style that lasts in the sweltering summer heat and humidity can be quite a chore. To create Gwyneth Paltrow's slick style, David Dieguez of New York City's Blow Dry Bar suggests applying a straightening serum to damp hair before drying it with a round, boar-bristle brush. This coats hair while it's still malleable and helps reduce frizz. Next, smooth strands from roots to ends using a ceramic flat-iron. Finish by spritzing two squirts of the Sedu Beach Beauty Sea Salt Spray, ($13; folica.com) onto fingertips and scrunching ends with hands for piece-y texture. See our gallery for more ways to perfect your blowout!
MORE:
• Gwyneth Launches Clothing for GOOP
• Gwyneth's Low Pony and More Hair We Love
• Gwyn's New Workout Leggings: On Sale!