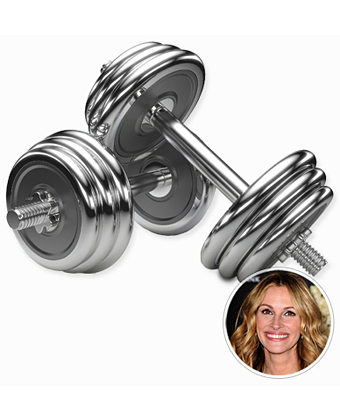 Jason Merritt/Getty Images, iStockphoto
Building up your summer beach body? Take a cue from Julia Roberts's trainer and pick up a pair of dumbbells. "People are so focused on cardio that when they can't afford a gym membership, workouts go by the wayside," says Roberts's trainer Kathy Kaehler told InStyle. "Five-pound dumbbell weights allow you to do circuit and strength workouts, which keep your heart rate up, increase your metabolism and help you tone." Pick up your own for $13 at amazon.com, and get more of Kaehler's workout tips by following her Twitter, @kathykaehler.
Plus, see more star-inspired workouts!
MORE:
• Get a Star-Worthy Middle in 3 Weeks
• Try Blake Lively's Workout Routine
• Excuse-Proof Your Workout