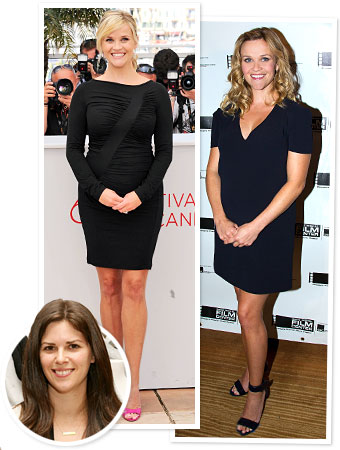 Jesse Grant/WireImage; ELIOT PRESS/bauergriffinonline.com; Michael Hickey/WireImage
No baby bump can get in the way of Reese Witherspoon maintaining her signature girl-next-door style—her third child is almost here!—thanks to a little help from her stylist Leslie Fremar. So what's the stylist's secret to a successful maternity look? "As a rule of thumb, pregnant women should wear more fitted clothes," Fremar told InStyle.com at the launch event for her latest Fruit of the Loom line of basics. "I think the inclination is to wear looser clothes, but it just makes you look bigger. Fitted clothes make you look smaller." Most recently, she put Witherspoon in a Versace LBD and Vanessa Bruno V-neck shift. And her reasoning is understandable: "It's not like people aren't aware of the changing shape of your body," she added. "Why hide it? Fitted clothes are most flattering." Do you agree?
Plus, see stylish celeb moms-to-be!
MORE: 
• Reese Witherspoon's Best Looks Ever
• Try on Reese Witherspoon's Hairstyles
• Celebrity Moms and Their Tots!
• See Hollywood's Newest Moms!