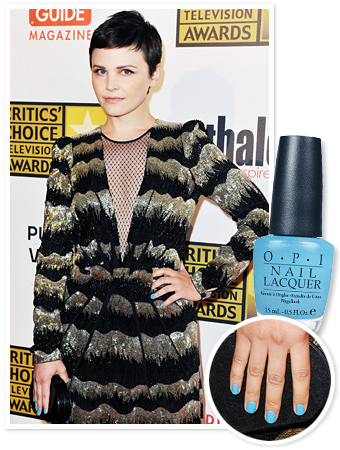 WireImage; FilmMagic; Courtesy Photo
The bright blue nail polish Ginnifer Goodwin wore to the Critic's Choice TV Awards had an unlikely inspiration: Twitter. "I went to tweet that I'd be presenting, and realized that my nail polish is the exact color of the Twitter emblem and banner," Goodwin told InStyle.com. "I'm calling it Twitter Blue. I hope that OPI doesn't mind that I renamed their polish!" We reached out to OPI, and they don't mind—but they did tell us the real name of the shade is I Don't Give a Rotterdam, available in stores now for $8.50. Head over to opi.com to find retailers with this hue in stock.
See more celebrity manicures in our gallery.
MORE: 
• First Look: Essie's Summer Collection
• Celebrities in Pastel Brights
• Katy Perry's New Video: Manicure Details
— Marianne Mychaskiw, reporting by Carita Rizzo