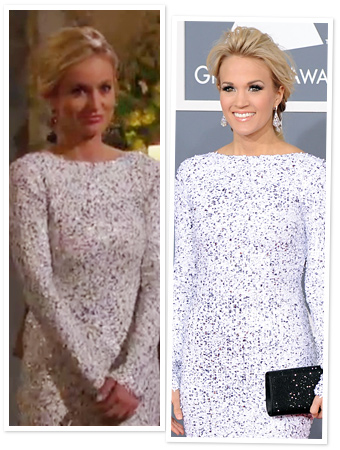 Courtesy Photo; Getty Images
We're asking Emily Maynard about her favorite outfit from each episode of The Bachelorette this season, and this week, she chose a backless, long-sleeve Gomez-Gracia gown—the same one Carrie Underwood wore to the 2012 Grammy Awards. "I immediately knew I wanted to wear the white Gomez-Gracia dress I had been saving for somewhere really special," Maynard said of the look she wore for the rose ceremony in Dubrovnik, Croatia. "I absolutely adore Carrie Underwood, so the fact that she wore this dress to the Grammys made me love it that much more!" Maynard completed the look with a pair of earrings from The Woods and unusual undergarments. "Because it was so cold out, I wore black leggings underneath!" Maynard said.  "Thankfully no one noticed!" Tell us: Did you like her look?
Plus, see more of Emily's favorite looks.
MORE:
• Emily Maynard Loves Her Sequin Gowns
• Exclusive: Emily's Bachelorette Accessories
• Our Favorite Celebrity Wedding Gowns