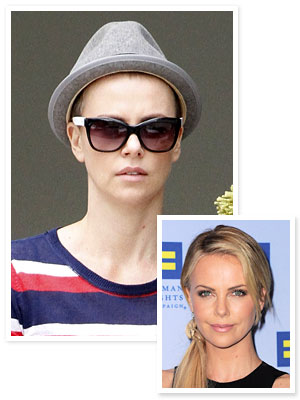 FameFlynet; Jordan Strauss/WireImage
Charlize Theron's hair is gone! The newly-shorn actress traded her long strands for a brave new buzz cut for her role as post-apocalyptic warrior Furiosa in Mad Max: Fury Road, and debuted the look yesterday in Los Angeles. Theron is the second star make a massive cut for an upcoming flick recently—Anne Hathaway did the same thing for Les Miserables—and we're sure this straight-shooting star is one who can make a quick adjustment. "I feel comfortable in my own skin," Theron told InStyle for our June cover story. "I know what I like." Tell us what you think of her new look in the comments!
See more celebrity hair makeovers!
MORE:
• The Best Hair Bargains Under $25
• Try on Charlize Theron's Hairstyles
• 15 Sexy Summer Hairstyles