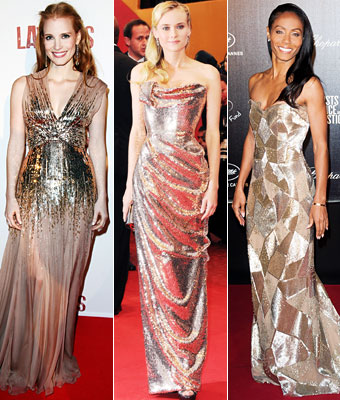 Bauer Griffin; Rex USA; Pacific Coast News
The leading ladies of the 65th annual Cannes Film Festival are going for the gold! This weekend, we spotted Jessica Chastain in a gilded chiffon Gucci design, the festival's celebrity jury member Diane Kruger in a rose gold sequin-encrusted Vivienne Westwood gown, and Jada Pinkett-Smith in a precious metal patchwork beaded Emilio Pucci creation. Tell us, which look is your favorite?
View our Cannes red carpet picks!
MORE:
• Diane Kruger's Cannes Wardrobe
• Cannes 2011 Red Carpet
• Chic Neutrals at Cannes