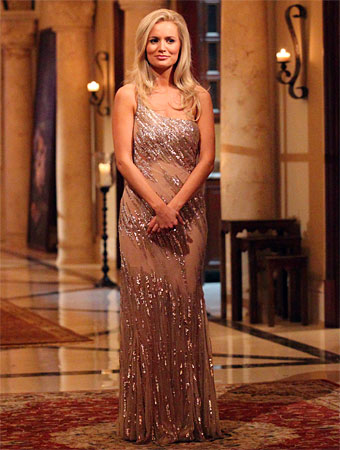 Craig Sjodin/ABC via Getty
Last night, Emily Maynard handed out her first 25 roses on The Bachelorette in a $6,300 sequin-covered Jean Fares Couture gown, and we talked to the 26-year-old single mom about how she chose her first look. "Anyone who knows me knows how excited I get over any kind of sparkles or sequins, so the day I showed up at stylist Cary Fetman's house, I thought I had died and gone to heaven!" Maynard told InStyle.com exclusively. "He had racks and racks of some of the most amazing dresses I have ever seen. We tried on clothes for hours, and I absolutely love the Jean Fares Couture dress I wore on the first night." The one shoulder blush chiffon gown featured an ombre design of silver, pink, rust and rose sequins. Tell us: Did you watch The Bachelorette premiere? Who are you rooting for? Tell us in the comments!
Plus, learn more about Emily's style.
MORE:
• Emily Maynard Loves Her Sequin Gowns
• Exclusive: Emily's Bachelorette Accessories
• The Bachelorette's Engagement Ring