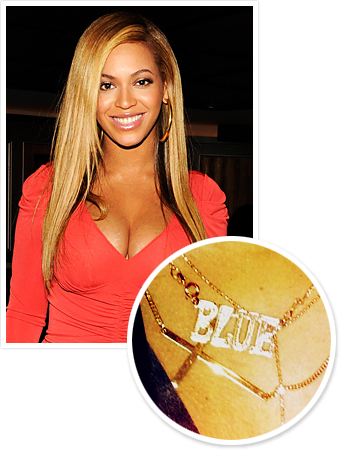 Courtesy of Beyonce; Kevin Mazur/Getty Images
Mother's Day is just around the corner, and one go-to gift for celebrities is a nameplate necklace. Beyonce is the latest star to break out a spelled-out pendant, posting this close-up shot of a gold and diamond Blue nameplate to her Tumblr page in honor of her new daughter. And Charlize Theron, Katie Holmes, and Christina Applegate all wear them, too. Thinking of gifting your mom or wearing one in honor of your little one? Flip through the gallery to see our favorite celebrity-inspired chains.
MORE:
• Charlize Talks About Adopted Son, Jackson
• See Harper Seven Beckham's Celeb Tot Style
• Jessica Simpson Welcomes Daughter, Maxwell!