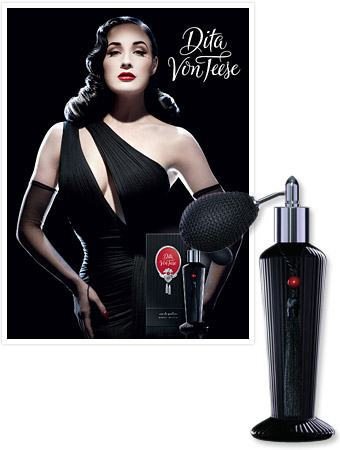 Courtesy Photos (2)
Dita Von Teese's first fragrance is now in stores! The star teamed up with Liberty of London to create her Old Hollywood-inspired scent. "I often thought about the great women that I admire like Marlene Dietrich or Hedy Lamarr—those sexy, glamorous, iconic women, and I couldn't imagine them ever smelling like fruits or candy," she said in an interview with the label. "I wanted something that speaks of wanting to be grown-up, a sophisticated woman who is in charge of her life." Von Teese's scent is a seductive blend of Bulgarian rose and peony, with undertones of spicy Bourbon pepper and smoky wood. Pick up a bottle exclusively at liberty.co.uk for $42.
Plus, see more celebrity fragrances!
MORE:
• Dita Von Teese's Double-Take Dress
• Get Katherine Heigl's Half-Moon Manicure
• Which Celeb Fragrance Should Win an Award?