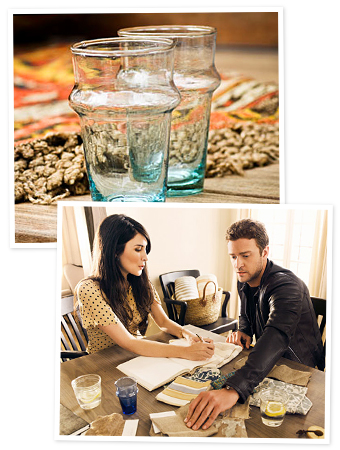 Courtesy of HomeMint
Justin Timberlake is teaming up with interior decorator Estee Stanley to create HomeMint, a wallet-friendly line of home goods available online only. "HomeMint combines my love of architecture and interior design with my passion for technology and social media to create a brand that offers aspirational designs for the home at accessible prices," the pop star said in a statement. HomeMint members who pay a monthly $10 fee will enjoy discounts and early access to products, but non-members can still shop the designs. This makes Timberlake the latest celebrity to join the BeachMint empire, which includes Rachel Bilson (ShoeMint), the Olsens (StyleMint), Kate Bosworth (JewelMint), and Jessica Simpson (BeautyMint). Timberlake's site launches May; visit homemint.com to register for updates. 
Plus! See Justin's style transformation.
MORE
• JewelMint's Anniversary Charity Bracelet
• Jessica Simpson Launches BeautyMint
• Rachel Bilson's Shoemint Launch