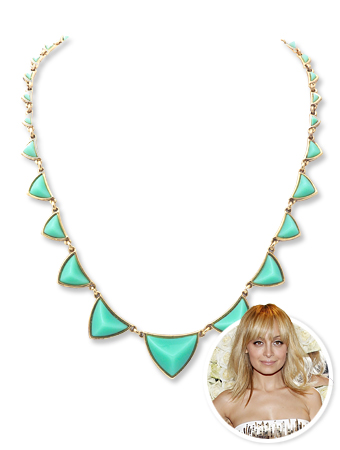 Courtesy of House of Harlow; Joe Kohen/Getty Images
Here's a way to add a dash of color to your summer wardrobe and give back! Nicole Richie just added a new mint green pyramid necklace to her House of Harlow 1960 lineup, and 20% of sales from the design benefit Baby2Baby, a charity that supplies Los Angeles families in need with essential baby gear and clothing. "Creating this special necklace was a friendly reminder to not take the basic necessities for granted and especially at Mother's Day, give love and a gift to those in need," Richie told InStyle.com. Shop the $75 design at revolveclothing.com.
See Nicole Richie's QVC Collection!
MORE:
• Freida Pinto Wears Her Necklace for a Cause
• Kristin Chenoweth's Style Icon: Nicole!
• Nicole's Spring Winter Kate Collection