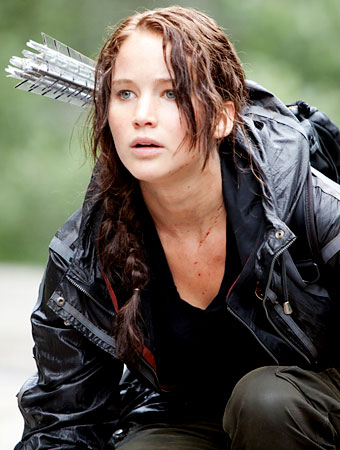 Courtesy of Lionsgate
Let the The Hunger Games begin! After months of anticipation, the film, starring Jennifer Lawrence as Katniss Everdeen, finally hits the big screen today. Before you head to the theater, check out InStyle's full Hunger Games coverage for all your need-to-know info—and may the odds be ever in your favor!
HUNGER GAMES FASHION
• 8 Fun Facts About the Costumes
• Katniss's Training Outfit Goes On Sale
• Designers Sketch Katniss's Interview Dress
• The Girl on Fire: See the Costume
• Shop Katniss Everdeen's Spring Style
• Capitol Looks Inspired By the Runway
• The Mockingjay: Best Pin Moments on Film
• Elizabeth Banks on Lenny Kravitz's Clothes
HUNGER GAMES BEAUTY
• Makeup Secrets From the Set
• Hair Secrets From the Set
• Get Effie Trinket's Smooth Skin
• Recreate Katniss's Fire Manicure
• China Glaze's Games-Themed Nail Polish
• Side Braids Inspired by The Hunger Games
• How Would You Look With Katniss's Braid?
• Seneca Crane's Beard Took Three Hours to Create!
EVERYTHING ABOUT JENNIFER LAWRENCE
• Jennifer Lawrence: Golden Girl
• Jennifer Lawrence's Pretty Premiere Hair
• Jennifer Lawrence Wears a Rainbow of Colors
• Jennifer Lawrence's New Red Hair
MORE ON THE HUNGER GAMES
• Photos From the Los Angeles Premiere
• What the Cast of The Hunger Games Wants You to Know
• Taylor Swift's "Safe + Sound" Music Video
• Sneak Peek: Stills From the Set
• Ginnifer Goodwin Loves The Hunger Games
CLIPS FROM THE FILM!
• Watch the Final Trailer
• Katniss Meets Cinna For the First Time
• Katniss Shoots an Arrow During Training
Plus, test out your Hunger Games knowledge with our online quiz!