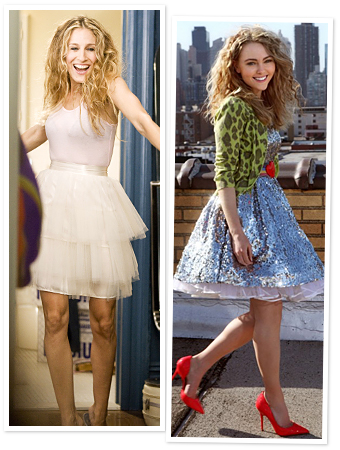 Craig Blankenhorn/New Line Cinema; Warner Bros.
Yesterday we shared a sneak peek of AnnaSophia Robb on the set of The Carrie Diaries, and today the CW released the first official photo of the actress in full-on '80s fashion as the young Carrie Bradshaw. Not only does Robb's wavy blond 'do remind us of Sarah Jessica Parker's signature look, she's also wearing a tutu with heels—a similar style to the outfit Parker works in the opening credits of Sex and the City.  "WE ARE EXCITED," The Carrie Diaries' costume designer Eric Daman tweeted in response to Robb's official Carrie Bradshaw debut. Fun fact: Daman also works his fashion magic on the set of Gossip Girl. We can't wait to see more of AnnaSophia's Carrie outifts!
See SATC's hottest style moments.
MORE:
• TV's Most Fashionable Shows Ever
• Elizabeth Olsen On Carrie Diaries Rumors
• Where Can I Find…Celeb Outfits!