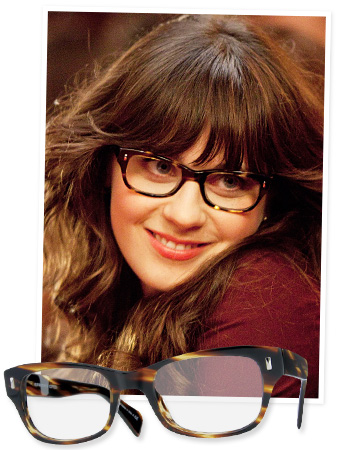 Isabella Vosmikova/FOX; Courtesy Photo
Zooey Deschanel's show New Girl draws more than 5 million viewers each week, and we love her "adorkable" style in each episode. Her specs are one of her signature items—the Wacks 51 Cocobolo by Oliver Peoples. Larry Leight, the founder and creative director of the frames company, describes the look as "a feminine design is inspired by the masculine styles worn by Buddy Holly and Roy Orbison." Snag your own pair for $300 at Oliver Peoples boutiques worldwide; visit oliverpeoples.com to find a store near you. A new episode of New Girl airs tonight at 9/8c on FOX.
Plus, see Zooey's beauty transformation!
MORE:
• Zooey at the 2012 Golden Globes
• Sister Act: Emily and Zooey Deschanel
• Get Zooey's Voluminous Hair
— Nikki Ogunnaike