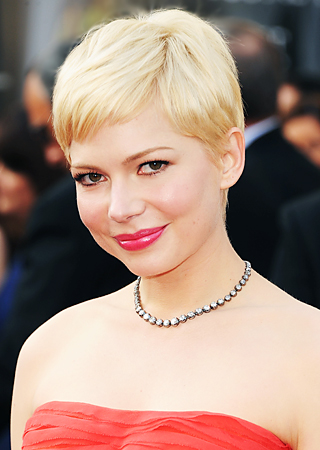 Jason Merritt/Getty Images
Best Actress nominee Michelle Williams paired her burnt orange Louis Vuitton dress with a perfect peony-toned lipstick. "My inspiration was a flower!" Chanel makeup artist Angela Levin told us of creating Williams's look. "Michelle looked so gorgeous and delicate in her dress, it made me think of a rose I have in my garden in that very same color." Levin blended Chanel Rouge Coco Lip Colour in Paradis, a French rose color, and Destinee, an amaranth tone, together to create the unique lipstick shade. "She was like a flower in a beautiful garden," Levin adds. Find the hues for $32.50 each at chanel.com.
See more Oscars details up close!
MORE:
• Michelle's Dress Took 300 Hours 
• 10 Memorable Oscars Beauty Moments