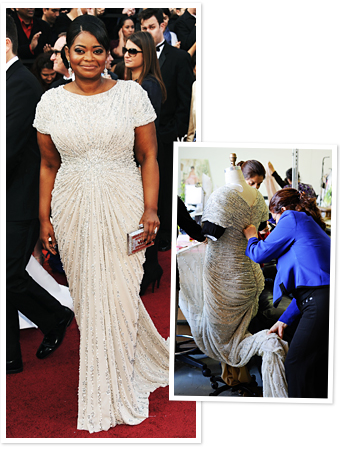 Getty Images; Courtesy Photo
Best Supporting Actress Oscar winner Octavia Spencer chose a hand-beaded, ivory silk tulle Tadashi Shoji gown for her big night. Fun fact: it took 1,000 hours of work, a team of 10, and six fittings to get the customized gown from the designer's showroom to the red carpet, the label told us. "She's a genuine, nice person," lead designer Shoji said of outfitting the actress. "I appreciate that she wore my dresses and she appreciated that I designed for her. It's mutual admiration." See the gown's journey from sketch to reality in the gallery!
MORE:
• Tadashi Talks Dressing Octavia
• Oscars Red Carpet Fashion
• Who Won the 2012 Academy Awards?