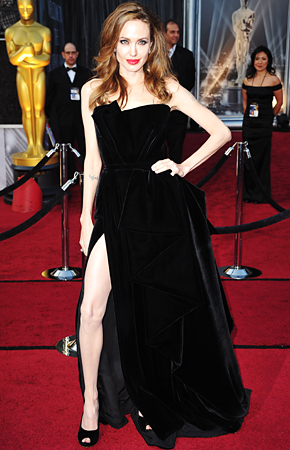 Joe Klamar/AFP/Getty Images
Angelina Jolie's right leg is famous! The actress spent all of Oscars night sticking her right lower limb out of her Versace dress in a dramatic stance, and the Internet reacted fast. Jolie's newly-famous peg already has its own Twitter account, @AngiesRightLeg. (Sample Tweet: "Hey, check me out!") The leg has also earned its own meme—legbombing—where admirers photoshop Jolie's body part onto images of everything from puppies to family photos. So, what do you think of the night's breakout star? Vote in our poll below!
Plus, see who made InStyle's Best Dressed List!
MORE OSCARS:
• Oscars Red Carpet Fashion
• Who Won the 2012 Academy Awards?
• Oscars Weekend Party Photos
• Academy Awards Beauty: Top Hairstyles