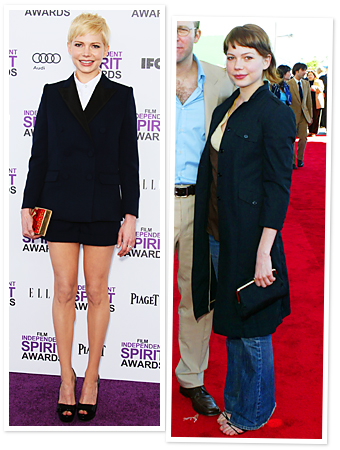 INFphoto; Getty Images
Michelle Williams reflected on how far she's come when she accepted the Best Actress Award at the 2012 Film Independent Spirit Awards in Santa Monica last night. "I first came here to the Independent Spirits Awards 10 years ago, and I wore my own clothes back then, which were not very good and I cut my own hair which was also not very good," she said on stage. She went on to finish: "Thank you for supporting me and welcoming me and making feel at home in the room now and all the way back then, and now the only thing I'm wearing that I own is my dignity." And what a transformation she's made over the years—check out Williams at the same awards show in 2004 compared to last night in the photo shown here.
Plus, see Michelle's best outfits ever!
MORE: 
• Michelle Williams on Her Oscars Look
• Celebrities as Marilyn Monroe
• See the 2012 Oscar Nominees!
• Most Breathtaking Oscar Gowns of All Time
• 10 Memorable Oscars Beauty Moments
— Andrea Simpson