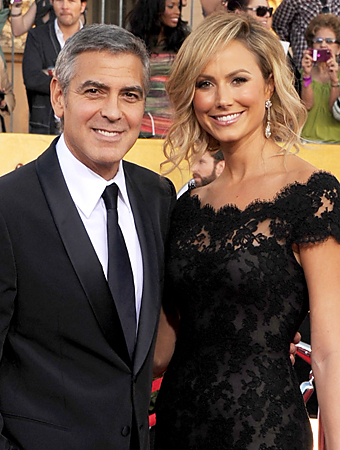 Jason Merritt/Getty Images
"Who are you wearing?" is a common award season topic—a fact not lost on George Clooney. "That's his favorite question," his girlfriend Stacy Keibler joked to InStyle.com over Golden Globes weekend. So does the Best Actor Oscar nominee offer her any red-carpet advice? "Mostly, it's just, 'Hurry up!'" Clooney told us. "No, I don't have to worry about it. She knows what she's doing." As for his pre-show routine, "I spend six hours getting ready," he laughed. "It's harder for girls. If you wear the same dress, you get a hard time." We can't wait to see what the couple wears to the Oscars tonight!
See more Oscar nominees!
MORE:
• Bethenny Frankel's Oscar Party Tips
• Who Will Present This Year?
• 10 Memorable Oscars Beauty Moments
• The Best Oscar Gowns Ever
• Best Costume Design Nominations
— Lindzi Scharf