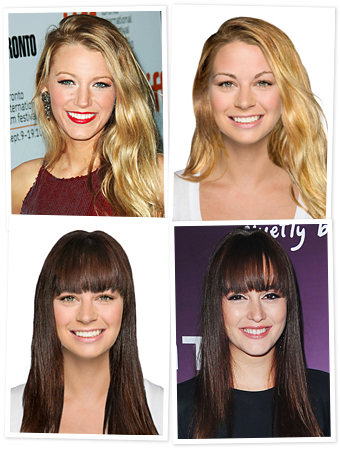 Sipa; Startraks; Time Inc Digital Studio
With Gossip Girl's 100th episode airing tonight, we want to know once and for all: Are you a Blair or a Serena? Try on their hairstyles in our Hollywood Makeover Tool to find out! Just upload your photo to see yourself in Serena van der Woodsen's carefree blonde waves or Blair Waldorf's flawless pin-straight strands. Then, share your makeover on Facebook and Twitter to see what all of your friends think of your Upper East Side-inspired 'do. Head over to our Hollywood Makeover Tool to try on their hairstyles now, and tune in to the CW tonight at 8/7c to catch the new episode.
Plus, see the top GG fashion moments!
MORE GOSSIP GIRL NEWS:
• Serena's Marilyn Monroe Moment
• Blair's Wedding Gown
• Blair's Vera Wang Fitting