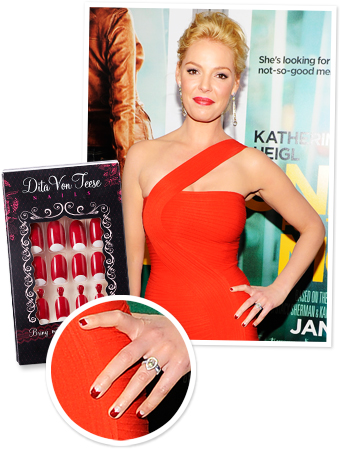 Anthony Behar/Sipa Press; Courtesy Photo
Katherine Heigl worked a glamorous half-moon manicure in a deep wine hue at the New York premiere of her new film One for the Money last night. The retro-inspired style may seem challenging, but you can create the look at home with two of your favorite nail polish shades, using a few French manicure tip stickers to keep your lines neat. No time to watch paint dry? Grab a set of Dita Von Teese's half-moon press-ons! The burlesque star designed a glue-on nail kit for Kiss nails ($10 at dita.net), which looks very similar to Heigl's half-moon mani.
Plus, see more of our favorite celebrity nail polish picks in the gallery!
MORE: 
• The Hunger Games Nail Polish: See the Bottles!
• Would You Wear Scented Polish?
• Best Manicures of the Golden Globes!