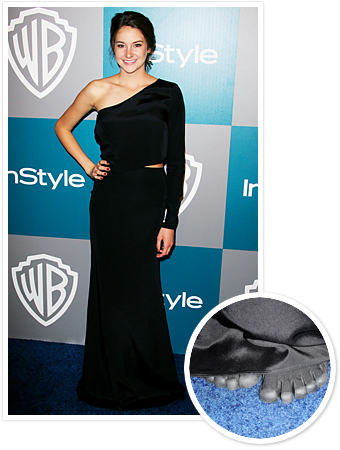 Matt Baron/BEImages; Kevork Djansezian/Getty Images
After walking the Golden Globes red carpet in a Marchesa dress and Tabitha Simmons shoes, Best Supporting Actress nominee Shailene Woodley switched into something more relaxed for the InStyle/Warner Bros. after-party. "This is a super comfortable Stella McCartney dress, and I'm wearing my favorite flats ever," the actress told InStyle.com, pointing to the five-finger Vibram shoes upon her feet. As for why she decided to change? "Who knows how many times I'll be able to change into two different long dresses in one night, so why not!" Why not, indeed!
Plus, see what everyone wore to the Globes after-parties in the gallery!
MORE GOLDEN GLOBES:
• 25 Fun Facts about Golden Globes Fashion
• Golden Globes: What Everyone Wore!
• See Our Best Dressed List!
— Lindzi Scharf and Andrea Simpson