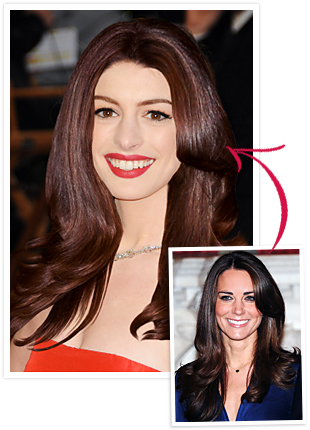 INFevents; Sipa
The power of Catherine's hair is global! Even One Day star Anne Hathaway admits she is a huge fan of the Duchess of Cambridge's long, flowing strands. "Jesus, that is bouncy," she told Interview magazine of Catherine's hair. "All the things that must be done to allow the crown to stay on, I can't even imagine." We gave the actress Middleton's hairstyle via our Hollywood Makeover Tool, as shown here. How do you think Hathaway looks with a touch of royalty? Let us know in the comments!
See more hair makeovers in the gallery, and try on Catherine's hairstyle in our Hair Makeover Tool. 
MORE:
• Try on Catherine's Hair!
• See Catherine's Tour Hairstyles!