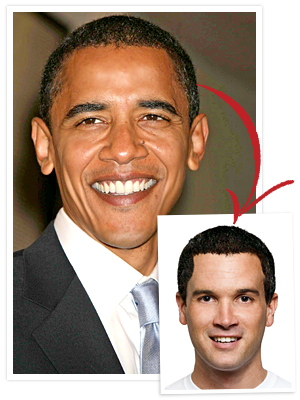 Globe Photo; Time Inc. Digital Studio
Want to do something fun to celebrate Barack Obama's 50th birthday today? Try on his hair! Just drop a picture of your husband, brother, boyfriend, buddy—or even yourself, just for kicks—into our Hollywood Makeover Tool and see how your friends would look with the close-shaven presidential 'do. Yes you can!
MORE HAIR NEWS:
• Michelle Obama: Try Her Hair!
• Hair Makeovers of 2011
• Our Favorite Summer Haircuts
• Robert Pattinson's New 'Do
• Try on Your Favorite Celebrity Cuts!