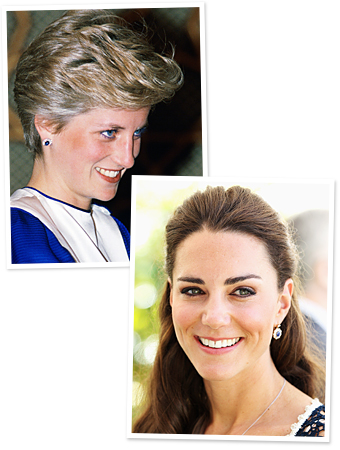 Tim Graham/Getty; Chris Jackson/Getty
The 18-carat sapphire engagement ring isn't the only piece of heirloom jewelry Prince William gave to his new bride, Catherine, Duchess of Cambridge, reports the Mirror—she now wears Princess Diana's earrings, too! The Duchess debuted the diamond and sapphire sparklers (they match her ring) at a Wimbledon match in June, and later wore them during the couple's North American tour. William's gift to Catherine also features a modern twist: While Diana wore them as studs, Catherine wears them as drops.
PLUS! Look back at all of Duchess Catherine's North American tour outfits in the gallery.
MORE:
• The Royal Wedding Gown Up Close!
• Duchess Catherine's California Outfits
• Duchess Catherine's Skin Secrets