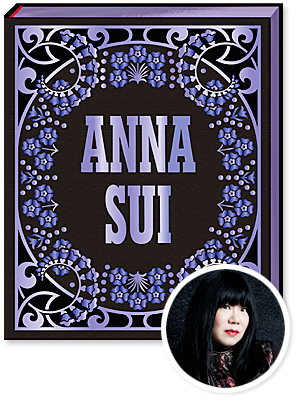 Courtesy of Anna Sui
To celebrate the 20th anniversary of her label this year, Anna Sui is hitting the books. And by that we mean…creating one! Titled Anna Sui and written by Andrew Bolton of New York's Metropolitan Museum of Art, the $60 book is available now for purchase. So what can readers expect to find? Anna explains, "The book features a chapter illustrating each of my fashion shows from Fall 1991 to Fall 2010. It truly captures the world of Anna Sui." Read more of our interview with Anna including one of her all-time favorite supermodel runway moments after the jump!
InStyle.com: Is making a book much like designing a collection?
Anna Sui: "Creating a book and creating a collection involve a lot of editing. There was so much possible material to consider for usage in the book, and I develop so many ideas in the preparation of a collection.  Being able to stand back and edit down the best possible entries is key for both."
InStyle.com: If a woman can only buy one piece of Anna Sui, what do you think she needs to have in her closet?
Anna: I recreated three dresses from my archive for my fans (available at Anthropologie).  Each one is made as closely as possible to the original version. A mesh dress from my Spring 2001 Mudd Club collection has got to be my top favorite. It has a trompe l'oeil design with all the cartoon details of pockets, buttons, belts and stitches digitally printed.
InStyle.com: Can you describe one of your most memorable fashion moments from your 20-year career that's also touched on in the book?
Anna: "The last three looks in my Spring 1994 fashion show featured supermodels Linda Evangelista, Naomi Campbell and Christy Turlington in short white party dresses with feather boas and lace-trim ankle socks. The models were scheduled to walk out one-by-one, but the runway was long enough for three girls to always be in view at the same time.  As Linda, Naomi and Christy passed each other on the catwalk, they caught each other's eyes. For some reason Linda stopped in the middle of the runway and waited until the three of them caught up to each other, and they proceeded to walk together in unison.  It was a completely unplanned, magical fashion moment that I will never forget. As the girls turned before they exited, they all burst out into giggles. The sight of those three famous girls (who are all dear friends of mine) standing together in their adorable poufy baby doll dresses and tiaras brought the house down."